Family Financial
This Family Financial wall was installed in Harrisburg, Pa. It is a level 2 bullet resistant security wall with 3 standard teller windows and 1 ADA compliant teller station. The package passer that is set into the wall is made of clear acrylic that is laminated on the front to match the finish of the base cabinets. The privacy barriers between the teller stations are laminated with a metallic finish. The side walls are steel studs, sheetrock and bullet resistant fiberglass.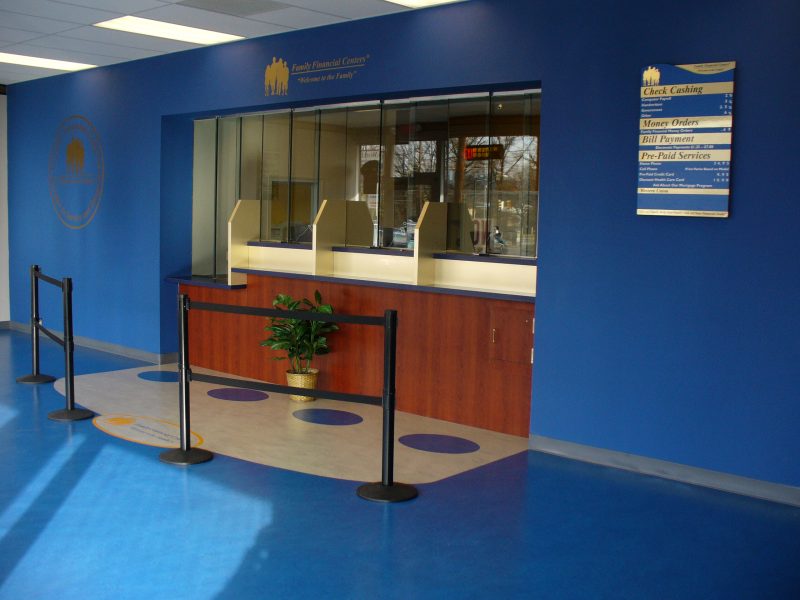 United 3-Window Wall
This wall has level 2 bullet resistant glass in the teller windows. The teller walls have bullet resistant fiberglass panels throughout. The door and package passer are also level 2 bullet resistant. We installed a new drop ceiling throughout the space with new fluorescent lights. The painting of the side walls was done to match the colors of the laminated counters in the teller wall. The flooring is Marmoleum which is high grade flooring that is used in heavy traffic areas. The teller and back floors are covered with commercial grade direct glue down carpet. This job was completed from the start with the architectural drawings and permit process to the final inspections and certificate of occupancy.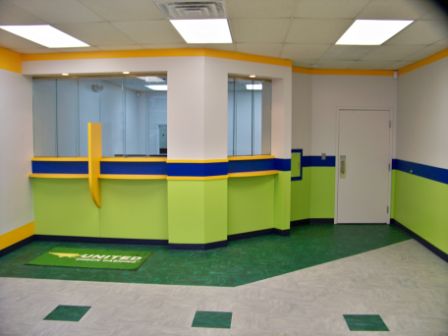 Ace Wall
This 3 window bullet resistant security wall was installed in the Dallas-Fort Worth area. It features 2 standard teller stations and a ADA compliant teller station. Overlapping level 2 acrylic inserted in stainless steel channels are centered over a 32" wide teller tray. The panels are laminated plate steel. It also comes with a cabinet package consisting of a wall mounted lobby counter, accessory counters for teller line, 2 cpu counters, printer stand, work island and a safe counter. All this cabinetry can be found on the accessory page of the website.
The mantrap is ADA compliant with the interior measurements of 5' x 8'. Two solid core wood doors are used to secure the mantrap with continuous hinges, door closers, lever handle storeroom function locks and latch protectors.