Lobby Counter w/legs
This ADA lobby counter is mounted to the wall and has legs for stability. It is 8' wide and has a 3' lower counter. It comes in your choice of laminate and size that will best fit your lobby.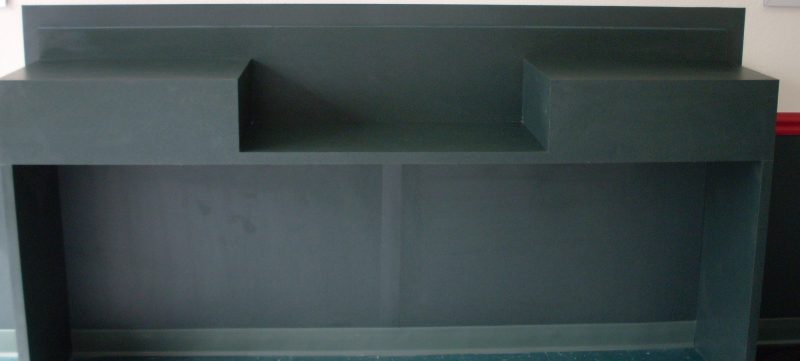 Free Standing Lobby Counter
This particular model is 42" tall , 72" wide and 24" deep. It has a raised middle with a plastic insert on top for advertisements and plastic holders on both sides for promotional materials. It also features a built in trash can to remove the clutter from your lobby. The entire cabinet is finished so it can be placed anywhere convenient for your customers. Your choice of laminate colors.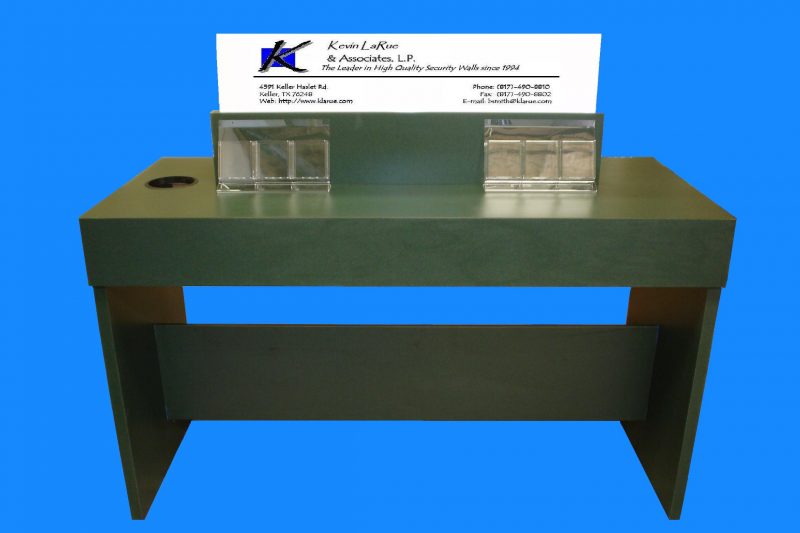 Printer Stand (slide)
Small portable stand with rollers that fits easily under the teller line that will hold your printer for easy access. Has a slide out top and a adjustable shelf. Comes in your choice of colors. Height 18 1/5 in , Width 17 7/8 in, Depth 18 in.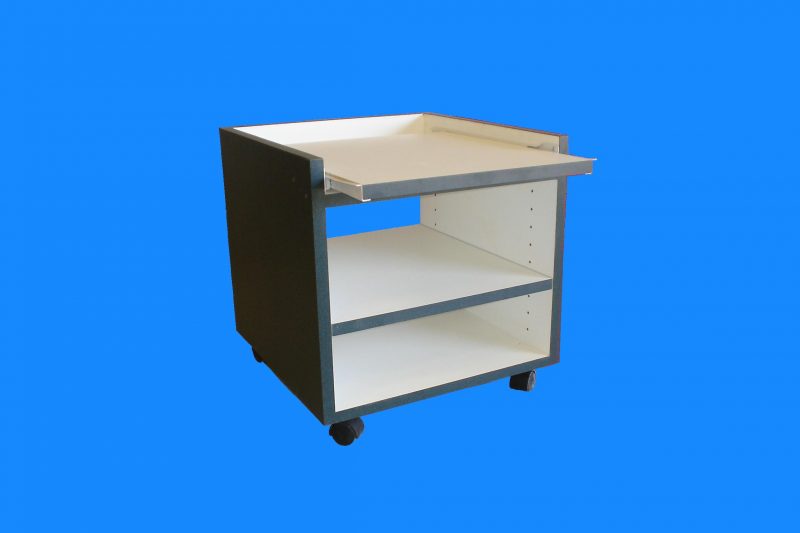 CPU Stand
This attractive computer stand keeps the area under your teller counter neat and organized. It protects your computer from water damage. Height 24 in, Width 17 7/8 in, Depth 18 in.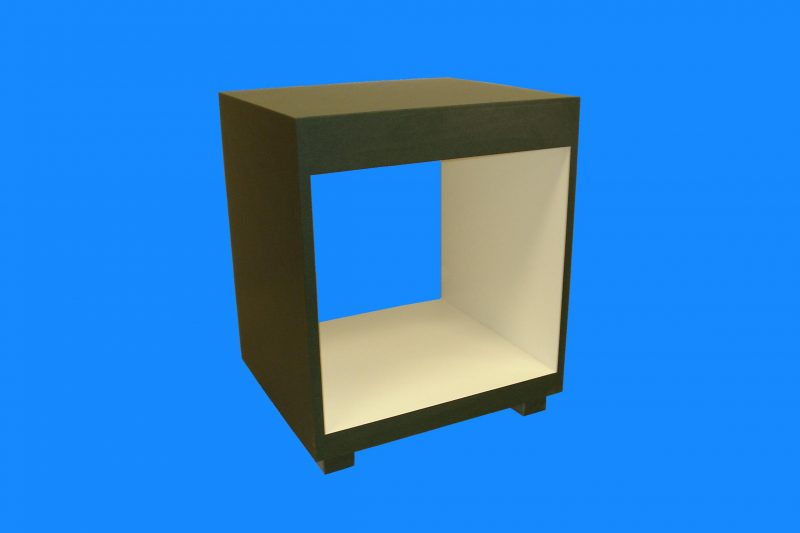 Teller Work Island
This work island is a large cabinet that we offer for the teller area. It is 6' wide 1'8" deep and 3'6" tall. The drawers can handle customer cards along with hanging files. The doors on the cabinet have adjustable shelves within. We refer to this unit as a work island because the cabinet can be put directly back of the teller line in the middle of the teller area. A power pole from the drop ceiling will bring data and electricity to the work island. The back of the work island has a counter that the tellers can sit at that allows them privacy from the customers and a clear view of the lobby.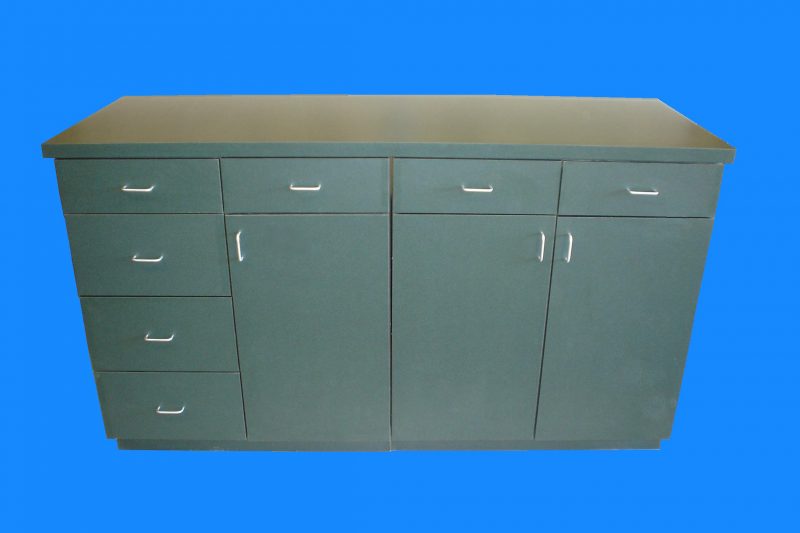 Privacy Dividers
Privacy Barriers come in all shapes and sizes. These privacy barriers go from the floor to 7 feet above finish floor. They provide additional security and privacy for your customers. They also help with voice transmission between the teller and the customer.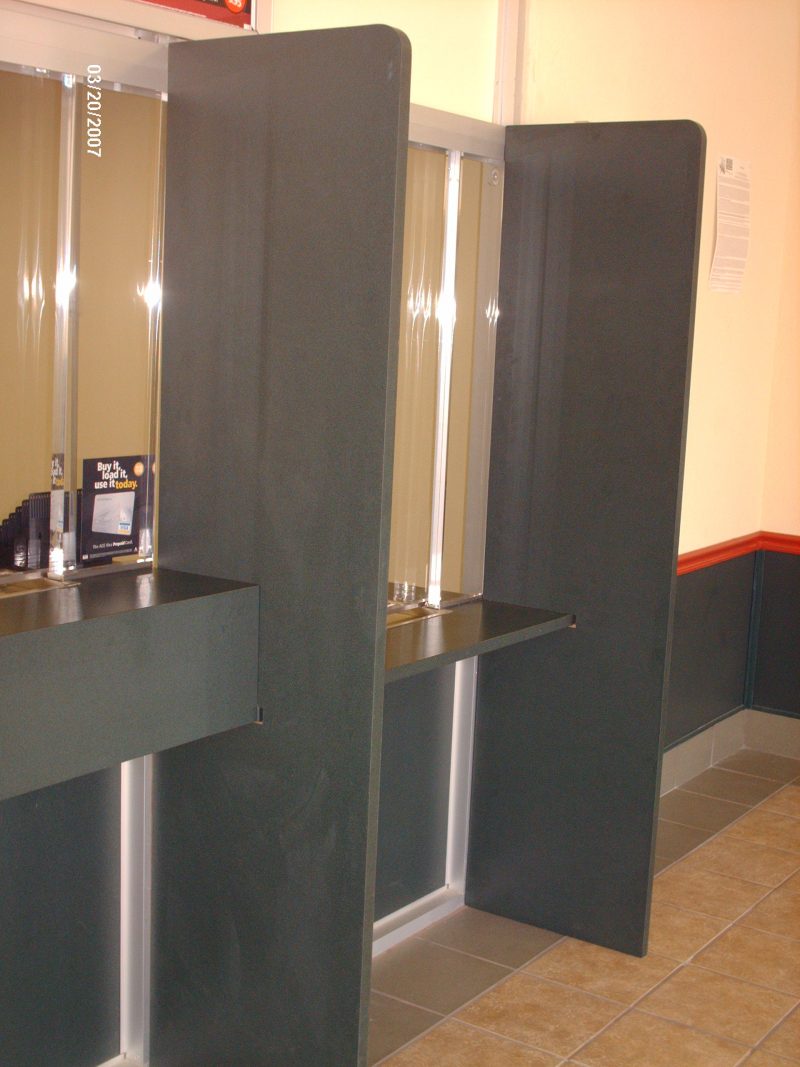 Heavy Duty Acrylic Convex Security Mirrors
These mirrors are virtually unbreakable. Special forming techniques provide less distortion. Acrylic convex security mirrors will not discolor over time as glass frequently does. They are lightweight and economical.
Indoor
This 18" convex security mirror has a swivel assembly that adjusts to various positions. Heavy duty mounting brackets are included with every indoor convex security mirror for easy installation.
Outdoor
The 18" outdoor convex security mirror has a plastic backing which offers durability, impact resistance and weather ability. Heavy duty mounting brackets are included with every outdoor convex security mirror for easy installation.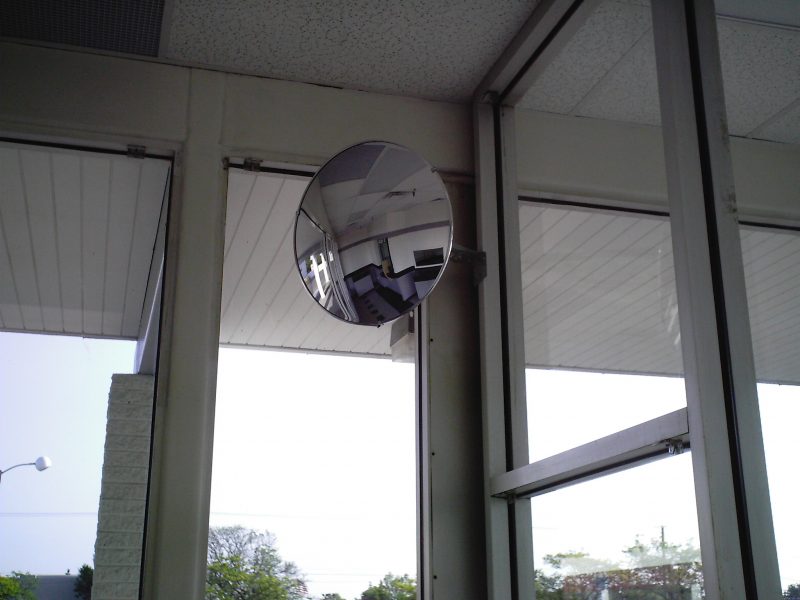 Keyless entry available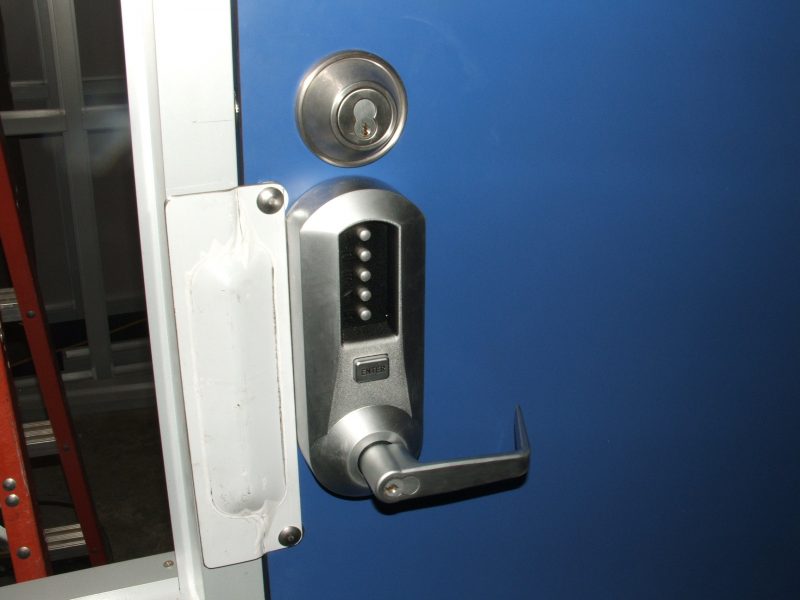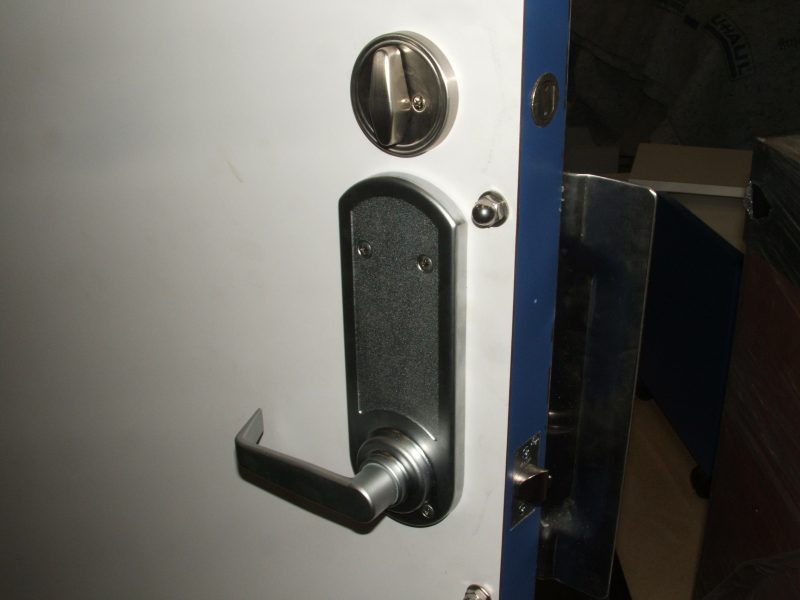 Bullet Resistant Package Passer 
This full vision bullet resistant level 2 unit allows installation through glazing panels without obstructing line of sight. Locking mechanism keeps one door locked at all times, allowing packages to be passed through enclosure without a security breach. The dimensions of this unit are 16" x 16" x 16".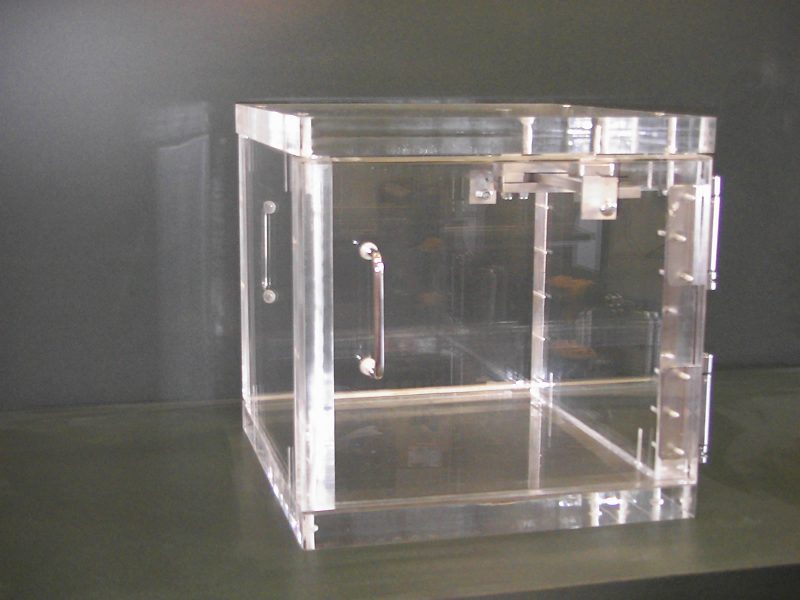 Rotating Package Passer
DIMENSIONS
HEIGHT: 16 IN.
WIDTH: 16 IN.
DEPTH: 16 IN.
TOTAL VOLUME: 4,096 CU. IN.
FEATURES
TWO DOOR SYSTEM ALLOWS ONLY ONE DOOR OPEN AT A TIME
CONSTRUCTED FROM LEVEL 1 BULLET RESISTANT ACRYLIC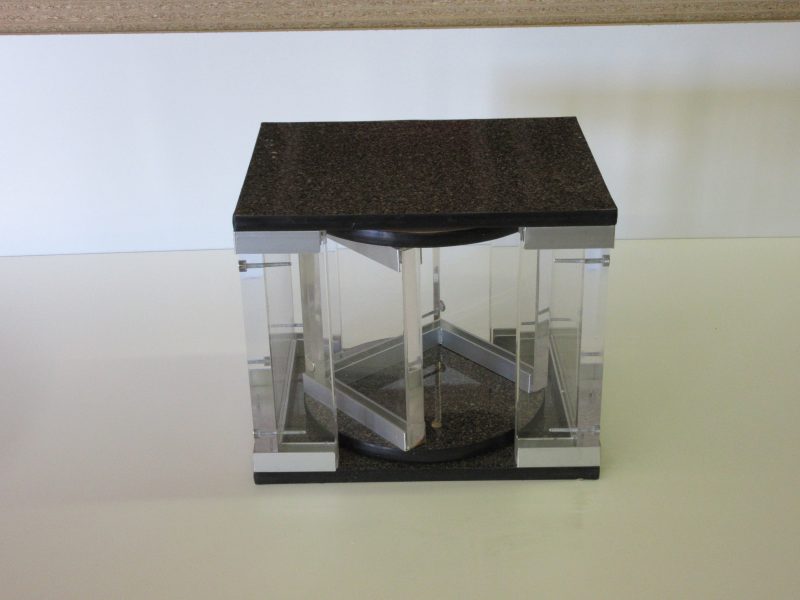 Cash Drawer
This cash drawer shown is a manual cash drawer with all steel construction and black powder coated finish with a stainless steel front. It has a center security drawer key-lock. Standard ABS plastic 5 coin/5 bill removable money tray insert and stainless steel money clips. It also has an aluminum coin breaking plate with a drawer bell.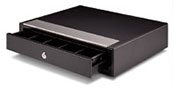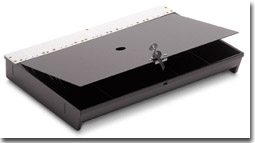 A locking lid for the cash drawer is also available
Trays and Channels
Here is an example of our tray and channel we offer in our teller counters. The tray is cut into the counter and set in the laminate; it is also notched to accommodate the stainless steel channel that holds the bullet resistant acrylic. The channel, trays and acrylic are locked together for added security.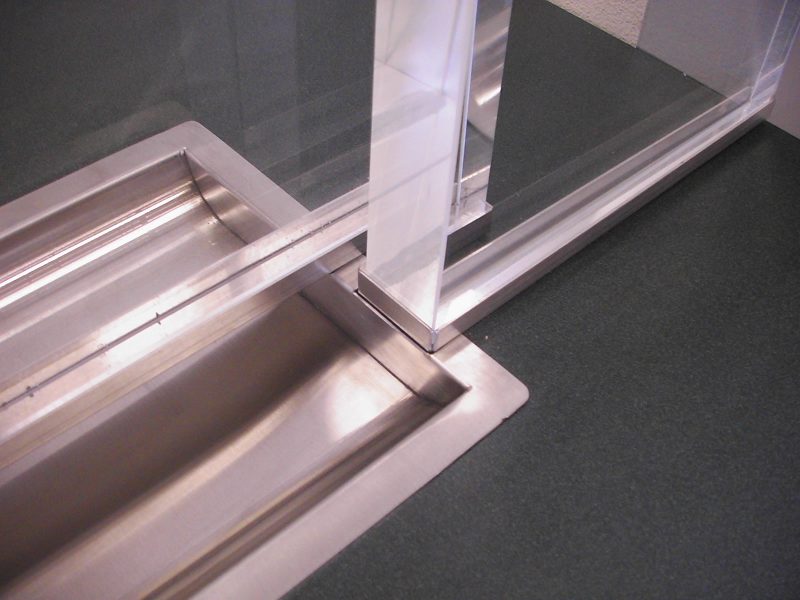 Modular Division Wall
The modular wall can be constructed in a short time with no drywall or painting mess. It offers privacy for your tellers from customers in the lobby. The wall is made of extruded aluminum that is screwed together and then panels are inserted in the framing. The panels can be of any color of your choice.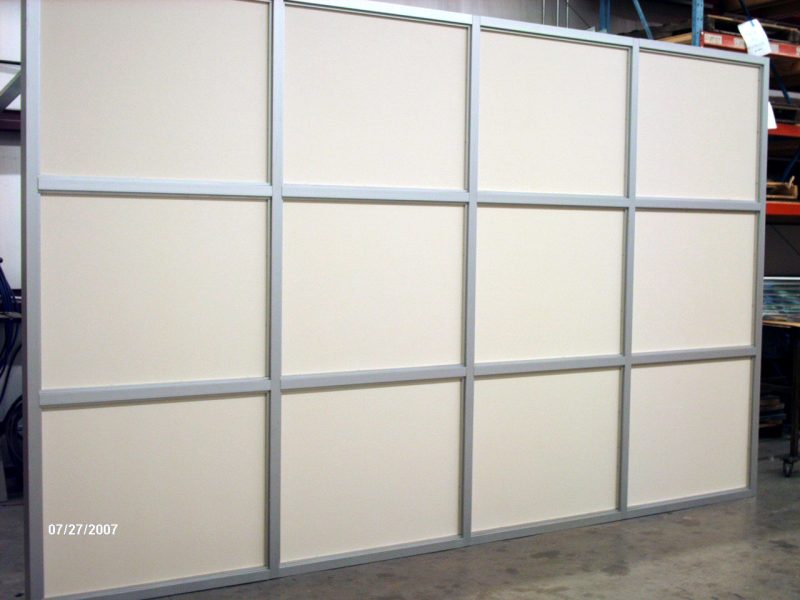 Bullet Resistant Panels
These panels are made of multiple layers of woven roving ballistic grade fiberglass cloth impregnated with a thermoset polyester resin and compressed into flat sheets. The production technique and materials used shall permit the en capture of a penetrating projectile. All grades of panels are UL 752 listed. The picture shows level 1 through level 3 bullet resistant protection. These panels can be used in security walls, judge's benches and other furniture systems, safe havens/safe rooms, bullet resistant doors, vehicle armor and as a blast protection barrier. This product can be installed as a wallboard and covered with drywall or laminate for bullet and intruder protection without sacrificing aesthetics.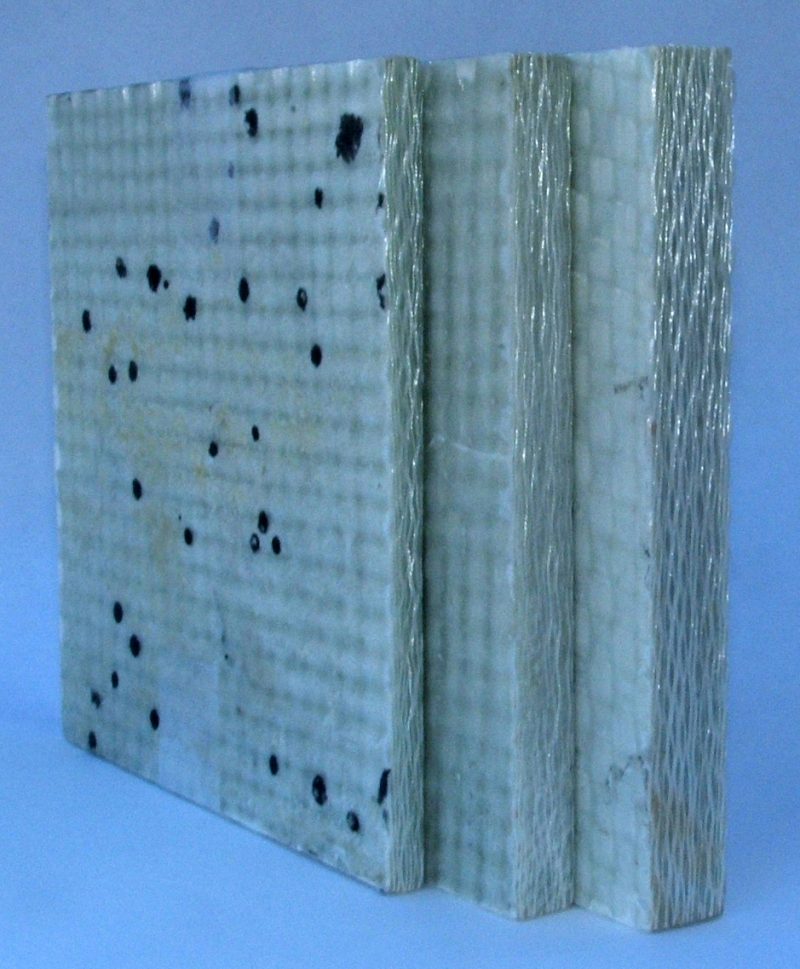 Expanded Metal
Expanded metal is used in security applications such as walls because it is difficult to breach. It also is very effective to secure the area above the drop ceiling between the tellers and the customers. Expanded metal is an extremely versatile and economical metal product. Expanded metal is offered in your choice of material, gauge and opening sizes.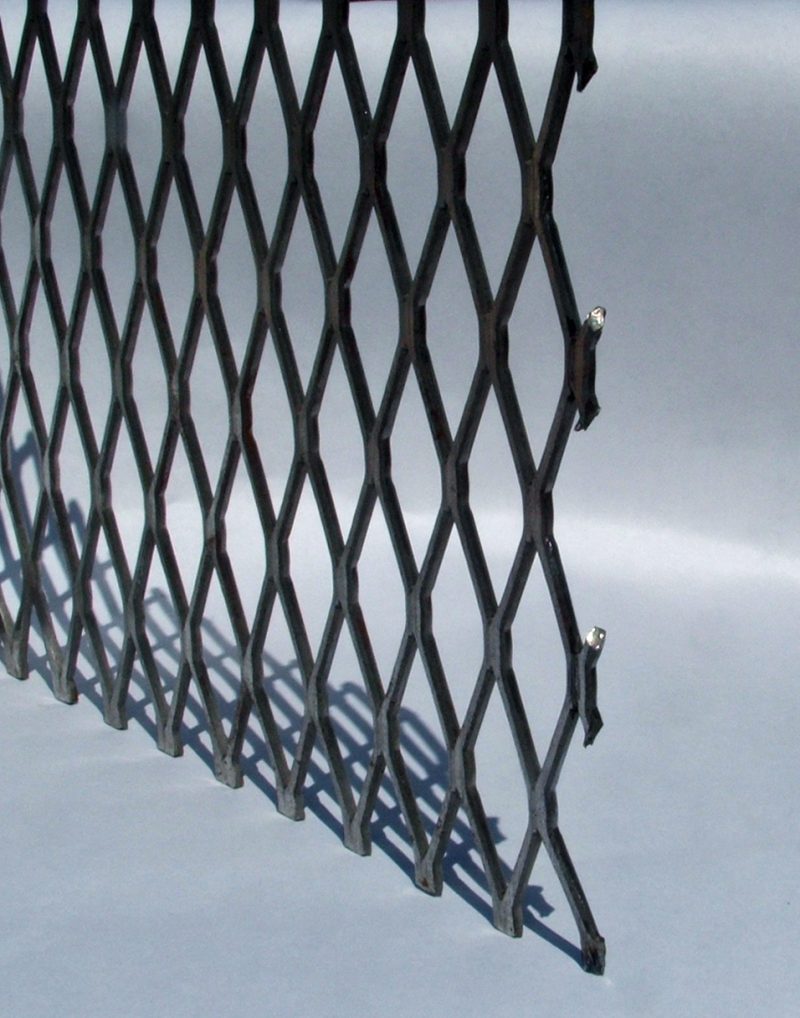 Bullet Resistant Acrylic
Bullet Resistant Acrylic is one of the most commonly used bullet resistant plastics. This product is most easily recognized by its clarity and is used in the majority of check cashing and convenience store locations. Bullet Resistant Acrylic is also the most economical solution when seeking protection from small arms or handguns. The product that is shown has a scratch resistant coating and a UL level 2 rating which will protect you from high powered hand guns such as the .357 Magnum. Also available in other bullet resistant ratings.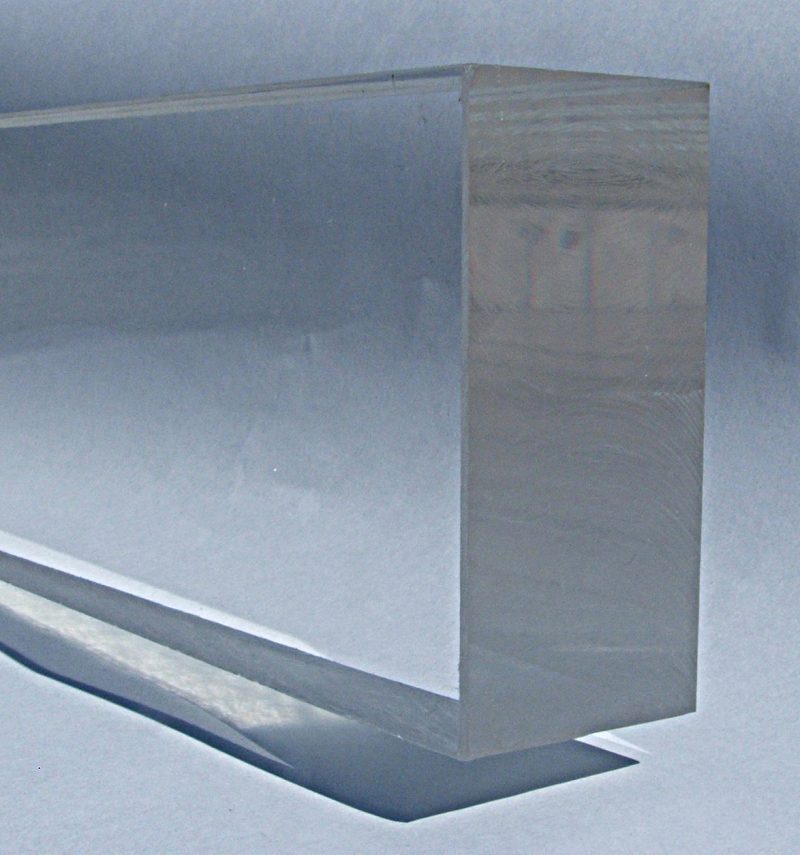 Laminated Panels 
These pictures show the panels that are inserted in our modular security wall. The picture on the left is a level 2 fiberglass bullet resistant panel that is laminated on both sides. The picture on the right is quarter inch plate steel that is also laminated on both sides. These laminated panels that are in our bullet resistant wall offer a no up keep feature. They will never need painting only a wipe down with a cloth to keep them looking the same for years after installation.